Build, Test & Deploy Structured Data
Everything you need to implement structured data - in minutes not months.
It's free!
The Complete Structured Data Tool Set
Easy to use tools for novices and experts alike.
How Does It Work?
Use one or all of the tools as you like.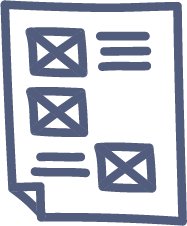 01
Builder
Forget coding schema by hand. The point-and-click ease of the Schema Builder combined with the intuitive step-by-step flow makes defining schema for your pages incredibly easy!
02
Tester
Automate testing and verification of the schema -at scale - with our robust API. Check for errors, warnings and recommended elements in your implementation.
03
Deployer
Forget waiting weeks or months to deploy the schema. A single line of code is all it takes to get your schema deployed and live for indexing by Google. Leverage a powerful engine to automatically generate and display structured data.
Install the Schema Markup Builder Chrome Extension
Latest Schema Posts
Your Complete Guide to Getting Started With Product Schema Markup

Google is one of the search engine giants when it comes to users conducting product searches. Most of the online shopper's use google when looking to buy products online. For this reason, Google has introduced

How to Get Started with Schema Markups

How does a search engine like Google understand the content of your page? Here's a hint: it doesn't use the same context clues as humans. After all, web crawlers, not humans, are the ones who

COVID-19 Structured Data: What You Need to Know

Seemingly overnight, 2020 became the year of the coronavirus. It's touched almost every unique aspect of our lives and has left indelible marks. And now, it's even changing Google. Google has recently introduced COVID-19 special